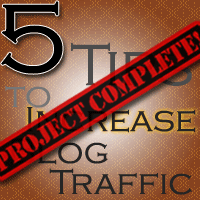 Just wanted to let everyone know that the 5 Tips to Increase Blog Traffic Project is now complete.
This project was fun and took about 7 hours to complete including research, writing, linking, etc. Hopefully you liked it, learned something from it, and can use this project series to increase the amount of money you earn next month!
Here is a full list of the articles:
3. How To: Achieve the Perfect Post Frequency
4. 10 Steps to Rank for Your Company Name
5. How To: Trackback for Traffic
Please leave a comment and let me know what you think!