General stuff about me…there won't be much in here…

It's been a while since I've done a site review so I thought I would dust off my site review worksheet and give the Picture Frame Guys some things to think about.
First Impressions
Without a doubt the first thing you notice about this picture frames website is the beautiful design. Most sites I review need a complete redesign, but if the PictureFrameGuys.com were my client, I wouldn't change anything about the design. I love the layered look of the picture frames behind the flash header. I also like the mouseover effect on the 5 main sections below the header. Below that is some great search engine content.
Usability and Functionality
In my website design business, one of the most important thing for almost all of my customers is ease of use. They want their website visitors to be able to find what they're looking for quickly and easily. This website has a variety of methods for accomplishing this goal. The first and most obvious are the 5 easy links below the flash header.

As you can see, these links make finding what you're looking for very easy.  Wood picture frames and metal picture frames are obviously the most commonly used and that's why they're featured on the left.  As a design side note, the most important information should always be on the left.  The English language reads from left to right so our eyes naturally start on the left side of the page. I am not even in the market for a picture frame right now, but I couldn't help visiting the picture frame tips page.  I love "Tips and Tricks" no matter what they're about.  I would probably read anything for 15 minutes if it was in a list or top 10 format.  Keep that in mind when you're designing a page to attract a variety of people.  Short and sweet sells.
SEO Suggestions
It doesn't matter how beautiful your website is if nobody knows about it.  This is partially the case with PictureFrameGuys.com from a search engine standpoint.  I did some research to see where PictureFrameGuys.com ranks for about 150 picture frame related keywords.  Out of those keywords, PictureFrameGuys.com did not have any first page rankings, and only a couple top 30 rankings.  Unfortunately this is totally unacceptable for a business of this caliber.  The number of potential customers being missed is huge!  The worst part about these poor rankings is that, like most businesses, they don't know how far behind they are.  They're probably working on getting a few links from Facebook, friends, personal blogs, etc., but in reality that isn't enough, and never will be enough. After analyzing some of their links, it looks like they might have hired a company to put a few links on some blogs, but that will never be enough (as indicated by the poor rankings). Take a look at the rankings in the picture below (click for full size).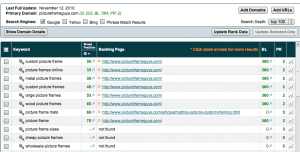 Fortunately this is an easy problem to remedy.  With a customized link building campaign I could have PictureFrameGuys.com (or your website!) in the top 10 for just about every major keyword and hundreds of minor keywords.  The keyword "picture frames" has some very stiff competition, but nothing that couldn't be beaten with some time and money.
What's the next step?
After doing a review of the aesthetics, usability, and ranking factors of the PictureFrameGuys.com, I would say they are well on their way to having a profitable business no matter what the economy looks like. As you could guess, the one suggestion I have is to run to your phone and give me a call about search engine marketing, there are thousands (61,280 daily searches according to Market Samurai) of people every day searching for picture frame related keywords that you could be reaching. If you only reached 10% of those, you would have 6,000 new website visitors, convert 10% of those and you would have 600 additional sales per day. Even if you only converted 1%, could you use an extra 60 sales per day?
As I mentioned, I do provide a full range of SEO services including link building. Email me or call me (559-871-1613) anytime to discuss your needs.