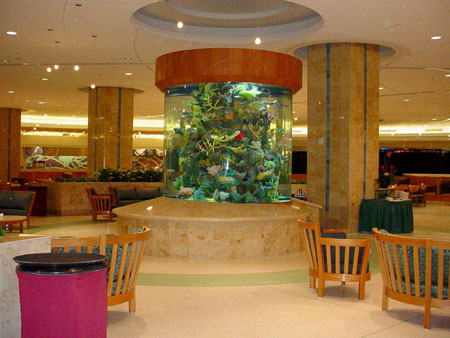 Although the world of pets and pet products is dominated by a few big companies including PetCo and Drs. Foster and Smith, you can still find a niche and fill it well. One of those niches is acrylic aquariums. Acrylic is a substitute for glass in aquarium building. It scratches easier than glass, but doesn't break or leak as easily. Most very large (250 gallon +) tanks are built using acrylic instead of glass because acrylic and take a higher pressure without flexing (bowing) and breaking. These reason make acrylic aquariums ideal for people buying a large tank without budgetary concerns. Acrylic can be built from 1/4″ thick to over 1″ thick depending on the needs. Glass aquariums built that think get VERY heavy, quickly.
This niche has a lot of long tail keywords including company brands, new, used, painting, removing scratches, etc. I would imagine a great site for acrylic aquariums would have a lot of pictures of different types of acrylic aquariums because people want to see sizes, shapes, dimensions, and they want to see if they can tell the difference between glass. Since acrylic and aquarium are both easily misspelled words, you want to include common misspellings like aqrilyc, acrylick, acuarium, and akuarium.
Here are the stats for "acrylic aquarium":
Keywords: Acrylic Aquarium
Competition: 1,170,000
Price per click: Adwords: $1.17/click
Search Volume: Overture: 3,132/month
While the CPC is low, the long tail keywords make this a great build it and forget it site. It may never make you rich, but it can be a steady $20/day site with decent traffic.
Here is a list of over 200 acrylic aquarium keywords.
UPDATE: Looks like one reader, Paul has the right idea, check out his niche site about acrylic aquariums.