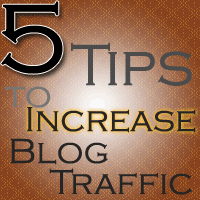 This is post 1 of 5 in a series called, "5 Tips to Increasing Blog Traffic".
1. LinkBaiting
Linkbaiting is the process by which you write and article or post that makes waves within your industry. To create a great linkbait you start with something interesting, controversial, accusatory, well researched, or unique. You then take this piece of information or article, put a great headline on it (How To Write Magnetic Headlines) and submit it let your readers submit it to Digg, Del.icio.us, and other social media sites. Word spreads like a wildfire and at the end of the day you have had 12,000 page views and 8,000 unique visitors. Then at the end of the month Yahoo! tells you that new page has 47 new incoming links.
Not only should linkbaiting get you some major traffic, it should also net you some pretty good links and a good number of them. There is one crucial key to linkbaiting. Don't recycle or copy content! Use unique, great content, even if it takes 3 days to write one piece.
Here are a few tips to consider when creating your linkbait:
Remember your existing audience, and your new visitors. Your current audience may like 1 type of post, your new visitors may not. Try to add something of interest in a "Related Posts", "Recent Posts", or "Popular Posts" section that will appeal to new visitors and encourage them to become repeat visitors.
Don't give up. If you are a new blogger without a reputation, you'll likely have to craft a few great pieces of linkbait before you will get noticed. Don't worry however, linkbait can be a few months old and still create traffic through links and search engines.
Avoid Spam-type words and actions. Nobody likes spam, not bloggers, not readers, enough said.
Here are some linkbait resources:
Tropical SEO – Can You Compete with Industrial Strength Linkbaiting?
"And link baiting is the fast, cheap, and bulletproof shortcut to those trusted links."

Stuntdubl – The Link Baiting Playbook: Hooks Revisited
"Linkbaiting is all about the bait. In the same way that you can't catch a giant tuna with a bag of doritos…"

SEOmoz – Talking about LinkBait
"SEOmoz has gone fishing for links quite successfully in the recent past. Our recent heavily linked-to projects include…"

Cornwall SEO – The Enormous Linkbait list
"I have read a ton of stuff on linkbait over the past year, I thought I would put together a list of the linkbait articles I have come across. "

Link Building Blog – How to get $196,000 worth of links, free
I'll admit that I came up with that title. Isn't that much better linkbait, while still being true?
Examples of linkbait in action:
And one final piece of content that I saved for last because if you skipped everything I said above, but took hold of this, you would have it all!
So get out there and start linkbaiting your niche!