If you've never been to Fiverr.com, there are millions of links to be had.  The only problem is that they're mainly junk links which are only good for increasing link diversity, and not actually helping pages rank.  Increasing link diversity can help keep your competitors from stealing your links.  On second thought, these links are also good for helping a new site get indexed.  They can quicken the process and help Google find your site sooner.  For most sites, this happens pretty quickly, within a week at the most.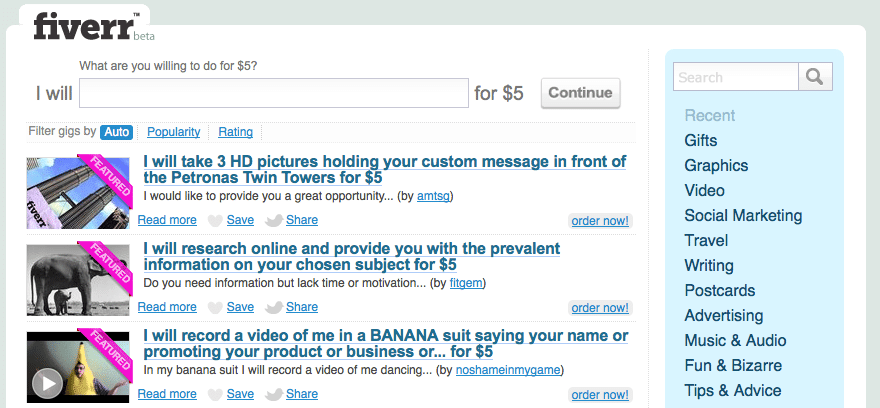 So, to prove this theory that junk/spam links don't help much, I'm going to take one of my sites and buy a bunch of packages at Fiverr and see what happens over the next couple of weeks.  The domain is an exact match .com which makes it very easy to rank.  If I had my link builders work on this site, I would expect a number 1 ranking in 2-4 weeks.
The only work I did was to spin a generic article using TheBestSpinner which took me about 2 minutes to get to 75% unique.
I won't link to the site from here since I don't want to skew the results.  The site is Job In Hawaii….com.  As you can see, it's a one page site that is currently ranked #93 (as of 4/19/11).  I did a comment blast on it a few weeks ago, that's why it's ranking #93.  It's been ranked at #93 since I've been tracking it (4/10/11).  I'll come back and update this post in a few weeks and we'll see what has happened.  Subscribe to my blog if you want to see the results but think you might forget to come back.
Fiverr Gigs ordered:
1 x Scrapebox links, 10k comments
1 x SEnuke X, only Social Network/RSS
1 x Article Marketing Robot submission
3 x Xrumer profile links, pyramid and direct
Total Cost: $30
This is what the test site looks like, just so you can make sure you're at the right place.

UPDATE: 6 Days later…All links have been finished, and are now live. Ranking went to 63 for one day, now it's at 109.
UPDATE: 22 days later…No significant change in ranking.  Site is now at #66.  Screenshot below from Market Samurai showing no significant change.

What do you think, is Fiverr worth even $5?