Reviews of movies, books, and educational materials.

It's been a while since I've done a site review so I thought I would dust off my site review worksheet and give the Picture Frame Guys some things to think about.
First Impressions
Without a doubt the first thing you notice about this picture frames website is the beautiful design. Most sites I review need a complete redesign, but if the PictureFrameGuys.com were my client, I wouldn't change anything about the design. I love the layered look of the picture frames behind the flash header. I also like the mouseover effect on the 5 main sections below the header. Below that is some great search engine content.
Usability and Functionality
In my website design business, one of the most important thing for almost all of my customers is ease of use. They want their website visitors to be able to find what they're looking for quickly and easily. This website has a variety of methods for accomplishing this goal. The first and most obvious are the 5 easy links below the flash header.

As you can see, these links make finding what you're looking for very easy.  Wood picture frames and metal picture frames are obviously the most commonly used and that's why they're featured on the left.  As a design side note, the most important information should always be on the left.  The English language reads from left to right so our eyes naturally start on the left side of the page. I am not even in the market for a picture frame right now, but I couldn't help visiting the picture frame tips page.  I love "Tips and Tricks" no matter what they're about.  I would probably read anything for 15 minutes if it was in a list or top 10 format.  Keep that in mind when you're designing a page to attract a variety of people.  Short and sweet sells.
SEO Suggestions
It doesn't matter how beautiful your website is if nobody knows about it.  This is partially the case with PictureFrameGuys.com from a search engine standpoint.  I did some research to see where PictureFrameGuys.com ranks for about 150 picture frame related keywords.  Out of those keywords, PictureFrameGuys.com did not have any first page rankings, and only a couple top 30 rankings.  Unfortunately this is totally unacceptable for a business of this caliber.  The number of potential customers being missed is huge!  The worst part about these poor rankings is that, like most businesses, they don't know how far behind they are.  They're probably working on getting a few links from Facebook, friends, personal blogs, etc., but in reality that isn't enough, and never will be enough. After analyzing some of their links, it looks like they might have hired a company to put a few links on some blogs, but that will never be enough (as indicated by the poor rankings). Take a look at the rankings in the picture below (click for full size).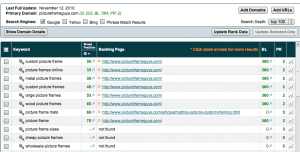 Fortunately this is an easy problem to remedy.  With a customized link building campaign I could have PictureFrameGuys.com (or your website!) in the top 10 for just about every major keyword and hundreds of minor keywords.  The keyword "picture frames" has some very stiff competition, but nothing that couldn't be beaten with some time and money.
What's the next step?
After doing a review of the aesthetics, usability, and ranking factors of the PictureFrameGuys.com, I would say they are well on their way to having a profitable business no matter what the economy looks like. As you could guess, the one suggestion I have is to run to your phone and give me a call about search engine marketing, there are thousands (61,280 daily searches according to Market Samurai) of people every day searching for picture frame related keywords that you could be reaching. If you only reached 10% of those, you would have 6,000 new website visitors, convert 10% of those and you would have 600 additional sales per day. Even if you only converted 1%, could you use an extra 60 sales per day?
As I mentioned, I do provide a full range of SEO services including link building. Email me or call me (559-871-1613) anytime to discuss your needs.
Ezilon.com contacted me recently about a site review for their directory. Initially I didn't want to do it because general web directories are overrated and boring. They sent me a link to their regional web directory and I checked it out. It is unique! Yes, a unique web directory.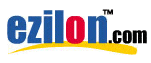 What makes Ezilon Unique
Since Ezilon is a unique web directory I thought I would start with that. What initially makes Ezilon unique is the design. It isn't just about template based directory script with a million crappy sites and DMOZ listings. It is a web directory that is designed to be used as a directory. Ezilon is ideal for finding a local business since the first way you're presented with is a clickable world map that takes you to regional based directory listings. I was able to quickly and easily find backup providers in the US.
Submitting Your Site
Ezilon is a paid web directory. Generally I don't pay for web directories, but this one made me give it a second thought. The reason is the high authority and high PR inner pages. For example if you sell baseball gear, here is a page with 4 outgoing links that is a PR3 and a steady PR 3….not a spammed quickly fading PR 3.
Baseball gear isn't the only high deep linked PR page. Here are a couple others I found with only a couple outbound links.
Those type links are not only hard to find with strong PR and limited outbound links, but this site is loved by Google. I don't know their stats, but I would imagine they get nearly 100k Google referred visitors per month. I see over 260,000 indexed pages, most of them cached. Did I mention the homepage is a PR6?
Subdomain Crazy!
One of the first things I noticed about Ezilon.com was their prolific use of subdomains. I counted about 20 subdomains ranging from country listings to an answer service like Yahoo Answers. Unless you're site is really large, you shouldn't need 20 subdomains, one situation in which you could use subdomains is for different languages like Ezilon.com does. Google often treats subdomains as different websites so a subdomain that is for a different language is truly a different website targeting different people.
Ideas and Suggestions
After spending considerable time browsing all aspects of Ezilon.com (and the various subdomains), I noticed a considerable lack of advertising. While this is definitely not a bad thing, it isn't the best business practice, unless you're running a pro-bono site. The advertising that I did see was mainly Adsense ads. When you have good page rank and good page views, you should have no trouble selling advertising.
I would suggest targeting specific markets and selling advertising on those pages of the site. Ezilon could sell Miami Beach real estate listings and web directory listings to that market. They could create a process and duplicate their process across the US and the entire world. With Ezilon there are a million different possibilities for upselling and cross selling including homepage advertising and featured category listings.
In addition to the different types of direct selling, they could promote their paid web directory and give out coupons to specific target markets they want to break into. When you give out a coupon to "Company A", and they sign up, it's easier to sell the product or service to "Company B". The sales call would be easy, "I wanted to let you know that Company A is advertising on our website. If you're interested in advertising as well, I can list you as a featured site and you're website will display above theirs!" Fear and competition can sell advertising. Company B thinks that if Company A has paid for advertising, I should to. I can be featured above them? Great!
Ezilon has so many PR 6 and PR 5 links, they could easily be selling $2-5,000 worth of text links per month. On this Help Desk page alone (PR6), they could sell a link to any number of help desk companies looking to increase their rankings.
I would suggest starting with an inventory of assets. These assets are mainly high trafficked pages and high PR pages. Once the list is created, start selling!
In addition to the high value assets, there are a lot of other medium quality assets that can be monetized including the Article Submission section. Article Submission services are a great source of passive income.
Another medium value section is the Job Board. It's a PR 3 with only one untargeted banner advertisement. Even just an affiliate program from Monster or Snag A Job would be better than no monetization.
Now You See…
Ezilon isn't just another basic web directory with a bunch of junk listings. Their site provides value in a variety of ways and has huge untapped potential! Check out Ezilon Regional Web Directory today!
I was recently contacted by Sound Capital Investments because they were looking to better their online presence.
Who is Sound Capital Investments

Sound Capital Investments is a Real Estate Agent in Houston, TX and also a Mortgage Investment Lender in Houston. Sound Capital Investments offers a variety of loan programs with a focus on the end result and helping you get the best deal possible.
Website Observations
With regard to the Sound Capital website, there is a lot that can be improved. When looking at the code of the website, you'll first notice that the meta tags and titles are appropriately targeted for keywords. Excellent!
Each page, however, has the exact same title. Each page should be given it's own title. The title of the page should include a keyword or two, but not duplicated across the entire site. This could be a problem of the coding (php includes) or it could have been an oversight.
However, after the meta tags the site begins to fall apart. After the meta tags you'll find approximately 97 lines of Javascript. While I'm no Javascript expert, I do know that search engines don't index javascript and therefore it should be used as little as possible. The javascript powers the loan calculator and dynamic mortgage rates. I would recommend moving the calculator off the main page since it already has it's own mortgage calculator page. I don't see the need for so much code especially when the calculator is duplicated on an internal page.
Further down the code are tables, yuck! Since the site uses CSS styling, the tables should be dropped and additional CSS added to keep the same layout. For any mediocre developer this is easy work and should take less than 10 hours. Great developers should be able to do this layout in about 3-5 hours.
The header logo has the following alt code, "alt="Real Estate Agent for Loans Financing In Houston"". I would like to see that similar to the main keywords of the site. Something like, "Houston Texas Real Estate Agent". That keeps the keyword theme of the page consistent while not abusing they keywords. Changing the order a little keeps search engine bots in the right arena for keywords without using them exactly all the way down. Other than that alt tag, most of the others are perfect.
Something else I don't recommend is using comment tags to hide code. Instead, just remove the code and clean up the HTML. That will also increase the text to code ratio, which is currently at 11.26%. For a site like this I would like to see the text to code ratio closer to 40-50%. That is very achievable especially considering the removal of the table and adding of CSS.
Another issue that I foresee with this site is duplicate content issues. Currently the index page is /index.asp. By using the "Home" button on the site you go to the index.asp. Correct linking should take you back to the root domain, http://www.soundcapitalinvestments.com not http://www.soundcapitalinvestments.com/index.asp. This could also be accomplished with a .htaccess file or even a robots.txt. Speaking of robots.txt, the site is missing one. Instead of not having one, the site should have one that instructs robots to index the entire site.
From what I can tell, the site is fully indexed in Google. In order to make sure it stays that way, I would recommend a sitemap (sitemap.xml). Since the site is fully indexed and it's a static site, this isn't 100% necessary right now.
All of those issues can be fixed with a talented developer. My main concern is the affiliate banners for "Ty Coughlin's Reverse Funnel System". I don't know how this spammy looking affiliate site is related to Sound Capital Investments, but is really is turning visitors off to the site. Instead of a professional looking website designed with a goal (real estate loans and sales) in mind, the site now has a second purpose of turning potential prospects away from lending and real estate and into this website that is very ambiguous at best. I would highly recommend removing the advertisements and letting the purpose of the site remain real estate.
Search Engine Observations
While unfortunate, I didn't expect the site to rank for very many keywords. The site has a Google Pagerank of 0 and very few backlinks. Mainly backlinks from sites that have scraped Sound Capital Investments text. With those stats in mind, I wasn't able to find the site ranking for any keywords including long tail. That doesn't mean the site doesn't actually rank for any, just none that I could find. One of the first keywords the site should rank for is the domain name and company name. It ranks for neither.
Another part that I mentioned that should be repeated is the title tags. They're all identical as shown by Google in the following screenshot.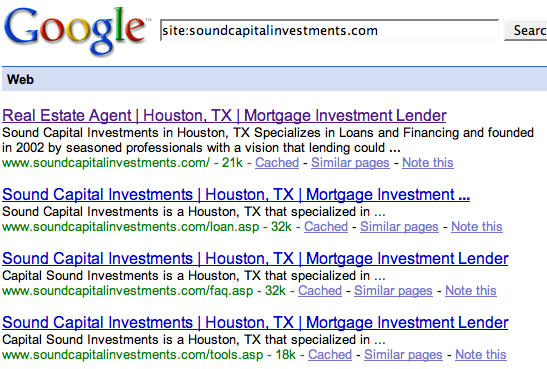 Well there you have it.  Sound Capital Investments is off to a good start, but definitely needs some work if they want to compete in such a strong market like Houston Texas Real Estate.