Ezilon.com contacted me recently about a site review for their directory. Initially I didn't want to do it because general web directories are overrated and boring. They sent me a link to their regional web directory and I checked it out. It is unique! Yes, a unique web directory.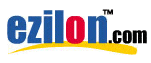 What makes Ezilon Unique
Since Ezilon is a unique web directory I thought I would start with that. What initially makes Ezilon unique is the design. It isn't just about template based directory script with a million crappy sites and DMOZ listings. It is a web directory that is designed to be used as a directory. Ezilon is ideal for finding a local business since the first way you're presented with is a clickable world map that takes you to regional based directory listings. I was able to quickly and easily find backup providers in the US.
Submitting Your Site
Ezilon is a paid web directory. Generally I don't pay for web directories, but this one made me give it a second thought. The reason is the high authority and high PR inner pages. For example if you sell baseball gear, here is a page with 4 outgoing links that is a PR3 and a steady PR 3….not a spammed quickly fading PR 3.
Baseball gear isn't the only high deep linked PR page. Here are a couple others I found with only a couple outbound links.
Those type links are not only hard to find with strong PR and limited outbound links, but this site is loved by Google. I don't know their stats, but I would imagine they get nearly 100k Google referred visitors per month. I see over 260,000 indexed pages, most of them cached. Did I mention the homepage is a PR6?
Subdomain Crazy!
One of the first things I noticed about Ezilon.com was their prolific use of subdomains. I counted about 20 subdomains ranging from country listings to an answer service like Yahoo Answers. Unless you're site is really large, you shouldn't need 20 subdomains, one situation in which you could use subdomains is for different languages like Ezilon.com does. Google often treats subdomains as different websites so a subdomain that is for a different language is truly a different website targeting different people.
Ideas and Suggestions
After spending considerable time browsing all aspects of Ezilon.com (and the various subdomains), I noticed a considerable lack of advertising. While this is definitely not a bad thing, it isn't the best business practice, unless you're running a pro-bono site. The advertising that I did see was mainly Adsense ads. When you have good page rank and good page views, you should have no trouble selling advertising.
I would suggest targeting specific markets and selling advertising on those pages of the site. Ezilon could sell Miami Beach real estate listings and web directory listings to that market. They could create a process and duplicate their process across the US and the entire world. With Ezilon there are a million different possibilities for upselling and cross selling including homepage advertising and featured category listings.
In addition to the different types of direct selling, they could promote their paid web directory and give out coupons to specific target markets they want to break into. When you give out a coupon to "Company A", and they sign up, it's easier to sell the product or service to "Company B". The sales call would be easy, "I wanted to let you know that Company A is advertising on our website. If you're interested in advertising as well, I can list you as a featured site and you're website will display above theirs!" Fear and competition can sell advertising. Company B thinks that if Company A has paid for advertising, I should to. I can be featured above them? Great!
Ezilon has so many PR 6 and PR 5 links, they could easily be selling $2-5,000 worth of text links per month. On this Help Desk page alone (PR6), they could sell a link to any number of help desk companies looking to increase their rankings.
I would suggest starting with an inventory of assets. These assets are mainly high trafficked pages and high PR pages. Once the list is created, start selling!
In addition to the high value assets, there are a lot of other medium quality assets that can be monetized including the Article Submission section. Article Submission services are a great source of passive income.
Another medium value section is the Job Board. It's a PR 3 with only one untargeted banner advertisement. Even just an affiliate program from Monster or Snag A Job would be better than no monetization.
Now You See…
Ezilon isn't just another basic web directory with a bunch of junk listings. Their site provides value in a variety of ways and has huge untapped potential! Check out Ezilon Regional Web Directory today!